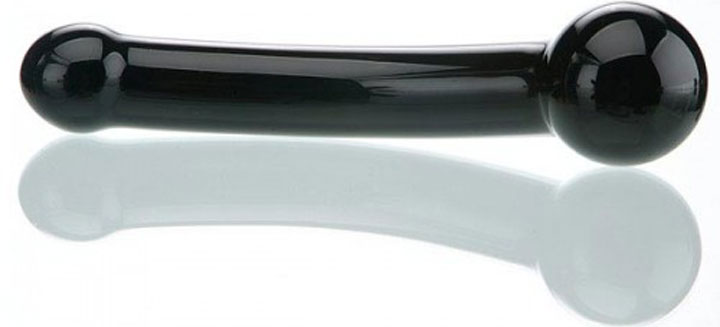 Of the many toys out there a favorite is the Serenity glass black dildo, a gorgeous glass dildo that you both can use!
The Serenity is a curvy, versatile wand with a g-spot loving shape that's perfect for both men and women.  Glass and pleasure objects are made to be combined for so many reasons, starting off with the most noticeable- the look.  The Serenity is a perfectly smooth midnight black double ended treat with smoothly spherical heads in both a small and large size. Either end can be inserted or used as handle, depending on how you choose to enjoy it.  The curvy shape reaches up naturally to massage the female g-spot or the male prostate easily and comfortably.
Take your Wand in hand to experience the solid, weighty feel that even with no effort on your part, applies steady, gentle pressure to whatever part of your body is lucky enough to be touched, and notice how the warmth from your hand transfers to Serenity, promising a quick transition for pleasantly cool to sensually warm when it's time for use.
Aside from the look and feel, glass is incomparably hygienic, with a nonporous surface that won't hang onto any bacteria, and can be thoroughly cleaned and sterilized. You can also use any type of lube you like, from water to silicone to oil, the choice is yours!